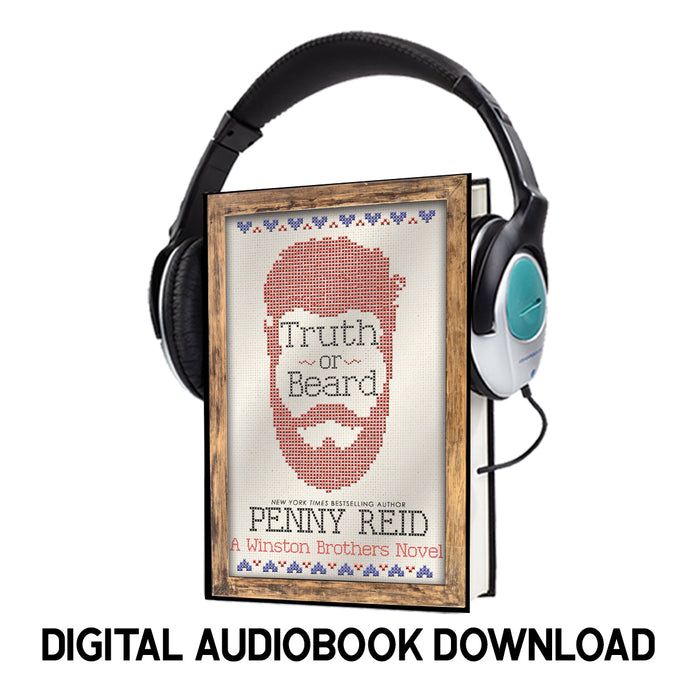 Winston Brothers 1.0: Truth or Beard - Digital Audiobook Download
Original price
$ 9.99
-
Original price
$ 9.99
This is a digital audiobook download of Truth or Beard, Book #1 in the Winston Brothers series by Penny Reid
Narrated by: Chris Brinkley and Joy Nash
Length: 13 hrs and 44 mins
★★★★★ "Perfect Rom Com with Depth! This has all the elements. I never write reviews, but this author, story, and narrators deserve it. So much fun, so sweet!" –Laura
★★★★★ "Worth a hot look. Penny Reid is always amazing and has a skill for finding the perfect, authentic turn of phrase for her characters. They feel like real people, except people I really like (because be real, most people kinda suck). The narrators brought the characters to life with legit accents and good comedic timing.
It is a steamy romance. But it is a funny, smart sexy steamy romance, not cheesy. Love it." – Leah
BLURB
New York Times, Wall Street Journal, and USA Today Bestselling series
Beards, brothers, and bikers! Oh my!
Identical twins Beau and Duane Winston might share the same devastatingly handsome face, but where Beau is outgoing and sociable, Duane is broody and reserved. This is why perpetually level-headed Jessica James has been in naïve and unhealthy infatuation with Beau Winston for most of her life. Whereas Duane and Jessica have always been adversaries. She can't stand him, and she's pretty sure he can't stand the sight of her…
But after a case of mistaken identity, Jessica finds herself in a massive confusion kerfuffle. Jessica James has spent her whole life paralyzed by the fantasy of Beau and her assumptions of Duane's disdain; therefore she's unprepared for the reality that is Duane's insatiable interest, as well as his hot hands and hot mouth and hotter looks.
When Jessica finds herself drawn to the man who was always her adversary, how much of her level-head heart is she willing to risk?
Truth or Beard is book #1 in the Winston Brothers series. Each book is a standalone, full length (110k words), contemporary romantic comedy novel, and follows the romantic exploits and adventures of one of the six Winston Brothers.
Upon payment, digital files will be delivered immediately via an email from BookFunnel for listening on your browser or via the BookFunnel App. You will need to check your email in order to receive the audiobook. 
If you have any issues with your download, please respond to your download email from BookFunnel directly. 
Sales on all digital audiobooks are final. This item cannot be returned, exchanged, or refunded.