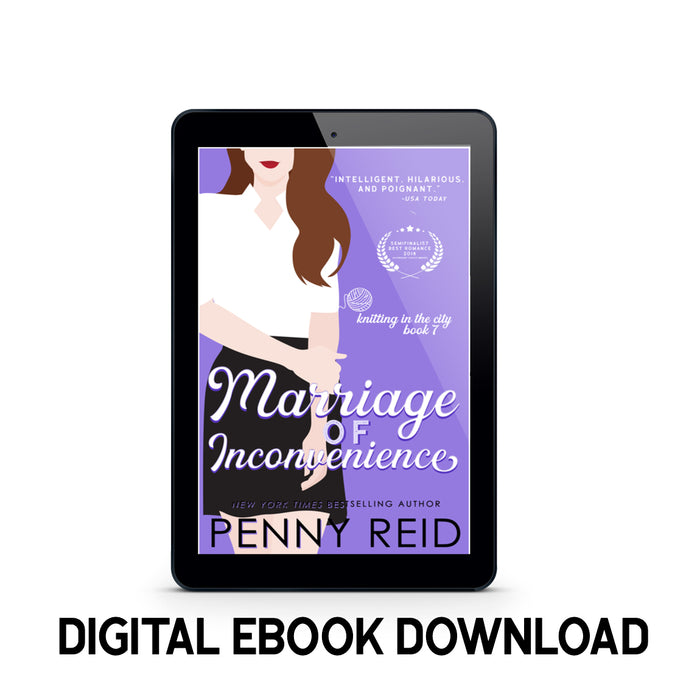 KITC 7.0: Marriage of Inconvenience - Digital eBook Download
Original price
$ 7.99
-
Original price
$ 7.99
Sales on all digital ebooks are final. This item cannot be returned, exchanged, or refunded.
This is a digital eBook download of Marriage of Inconvenience, Book #7 in the Knitting in the City series by Penny Reid. 
Upon payment, digital files will be delivered immediately via an email from BookFunnel for reading on your preferred device. You will need to check your email in order to receive the eBook. 
If you have any issues with your download, please respond to your download email from BookFunnel directly. 
There are three things you need to know about Kat Tanner (aka Kathleen Tyson. . . and yes, she is *that* Kathleen Tyson):
1) She's determined to make good decisions, 2) She must get married ASAP, and 3) She knows how to knit.
Being a billionaire heiress isn't all it's cracked up to be. In fact, it sucks. Determined to live a quiet life, Kat Tanner changed her identity years ago and eschewed her family's legacy. But now, Kat's silver spoon past has finally caught up with her, and so have her youthful mistakes. To avoid imminent disaster, she must marry immediately; it is essential that the person she chooses have no romantic feelings for her whatsoever and be completely trustworthy.
Fortunately, she knows exactly who to ask. Dan O'Malley checks all the boxes: single, romantically indifferent to her, completely trustworthy. Sure, she might have a wee little crush on Dan the Security Man, but with clear rules, expectations, and a legally binding contract, Kat is certain she can make it through this debacle with her sanity—and heart—all in one piece.
Except, what happens when Dan O'Malley isn't as indifferent—or as trustworthy—as she thought?
Marriage of Inconvenience is book #7 in the Knitting in the City series. Each book is a standalone, full length (110k words), contemporary romantic comedy novel, and follows the misadventures and exploits of seven friends in Chicago, all members of the same knitting group.