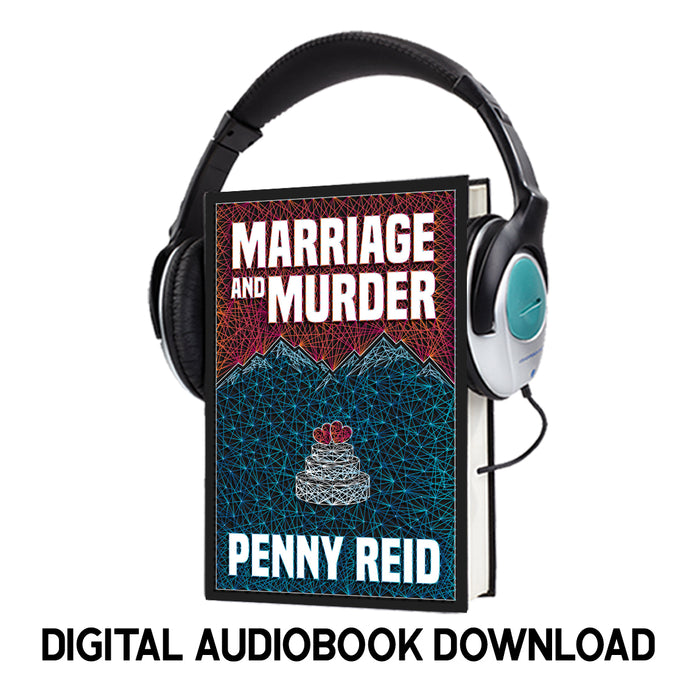 Cletus and Jenn Mysteries 2.0: Marriage and Murder - Digital Audiobook Download
Original price
$ 9.99
-
Original price
$ 9.99
This is a digital audiobook download of Marriage and Murder, Book #2 in the Solving for Pie: Cletus and Jenn Mysteries series by Penny Reid
Narrated by: Chris Brinkley and Joy Nash
Length: 11 hrs and 11 mins
★★★★★ "Great listen! Love Penny Reid and all she writes. I liked this book more than the first in this series. Joy Nash and Chris Brinkley deliver again. Can't wait for the next one!" – Ryan
★★★★★ "Best of the Winston Family books!! This is the perfect combination of sexy scenes, lovely people and storylines, and mystery. I love that we get to see the whole family progress with each book. I adore this family that's been created by Penny and hope the story can continue. The adventures of Cletus and Jenn are fantastic, brilliant, funny, and wholesome. More please!!" – L.
BLURB
USA Today Bestseller
The Devil is in the details . . .
Cletus Byron Winston wishes to marry Jennifer Anne Donner-Sylvester (aka The Banana Cake Queen) posthaste! He's spent the last year wanting nothing more than for the celebrations to be brief, libations flowing, and BYOB (bring your own blueberries). His future mother-in-law has other plans, plans his intended has been willing to indulge, much to Cletus's chagrin. Therefore, so must he. To a point. But truth be told, he wouldn't mind if the meddlesome matriarch disappeared, at least until the nuptials are over.
On the night of Cletus and Jenn's long-awaited engagement party, just when the surly schemer is of a mind to take matters into his own hands, a shocking event upends everyone's best laid plans and sends the small hamlet of Green Valley into complete disarray. The final months leading up to Cletus and Jenn's matrimonial bliss are plagued with chaos and uncertainty. Will Cletus and Jenn finally make it to the altar? Or will murder and mayhem derail their happily-ever-after?
And most importantly, who done it?
'Marriage and Murder' is the second book in the cozy mystery series Solving for Pie: Cletus and Jenn Mysteries. It is best read after Winston Brothers #3, 'Beard Science' (which can be read as a standalone) and Solving for Pie: Cletus and Jenn Mysteries #1, 'Engagement and Espionage.'
Upon payment, digital files will be delivered immediately via an email from BookFunnel for listening on your browser or via the BookFunnel App. You will need to check your email in order to receive the audiobook. 
If you have any issues with your download, please respond to your download email from BookFunnel directly. 
Sales on all digital audiobooks are final. This item cannot be returned, exchanged, or refunded.