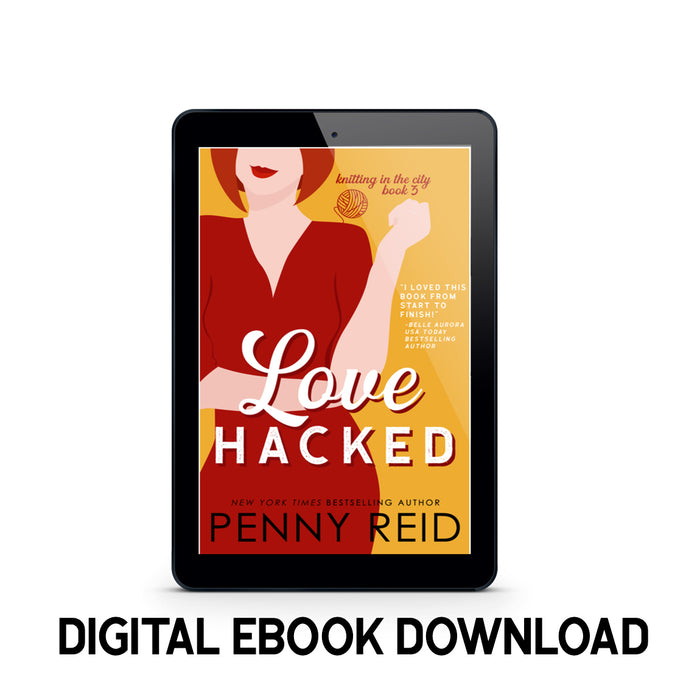 KITC 3.0: Love Hacked - Digital eBook Download
Original price
$ 6.99
-
Original price
$ 6.99
Sales on all digital ebooks are final. This item cannot be returned, exchanged, or refunded.
This is a digital eBook download of Love Hacked, Book #3 in the Knitting in the City series by Penny Reid. 
Upon payment, digital files will be delivered immediately via an email from BookFunnel for reading on your preferred device. You will need to check your email in order to receive the eBook. 
If you have any issues with your download, please respond to your download email from BookFunnel directly. 
There are three things you need to know about Sandra Fielding:
1) She makes all her first dates cry, 2) She hasn't been kissed in over two years, and 3) She knows how to knit.
Sandra has difficulty removing her psychotherapist hat. Of her last 30 dates, 29 have ended the same way: the man sobbing uncontrollably. After one such disaster, Sandra–near desperation and maybe a little tipsy–gives in to a seemingly harmless encounter with her hot waiter, Alex. Argumentative, secretive, and hostile Alex may be the opposite of everything Sandra knows is right for her. But now, the girl who has spent all her life helping others change for the better, must find a way to cope with falling for someone who refuses to change at all.
Love Hacked is book #3 in the Knitting in the City series. Each book is a standalone, full length (110k words), contemporary romantic comedy novel, and follows the misadventures and exploits of seven friends in Chicago, all members of the same knitting group.