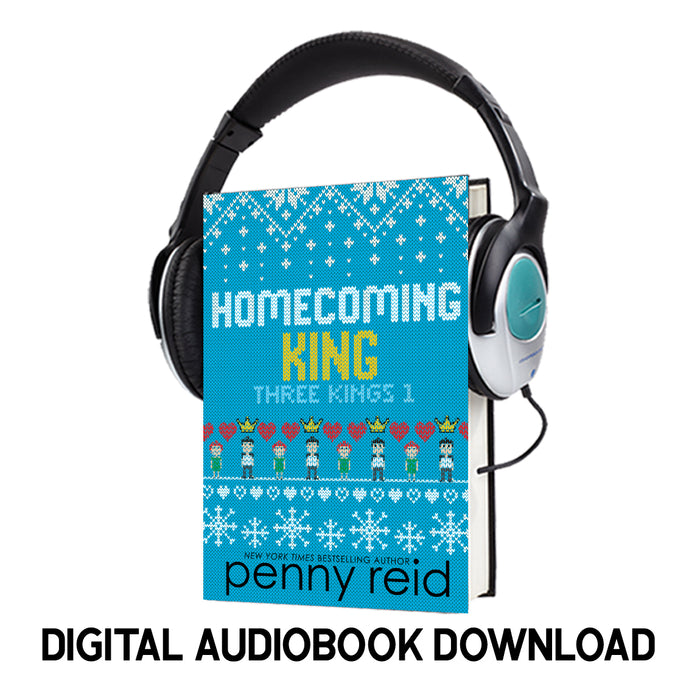 Three Kings 1.0: Homecoming King - Digital Audiobook Download
Original price
$ 9.99
-
Original price
$ 9.99
his is a digital audiobook download of Homecoming King, Book #1 in the Three Kings series by Penny Reid. 
Narrated by: Joy Nash
Length: 12 hrs and 27 mins
★★★★★ "Penny Reid + Joy Nash = magic. I've read many Penny Reid books, I even read this one when it first came out. I've also listened to several books narrated by Joy Nash, but this one is the best. Joy nails Abby perfectly and her male voices are husky and not distracting. This one is her best narration yet! I loved Aunt Sal when I read it the first time but Joy brought her to life and I laughed out loud. 10/10" – V.
★★★★★ "Home run, and I don't even like baseball. If you want to learn how to communicate better with your partner, and see what real people are like with integrity and virtue this book has so many pearls of wisdom as well as tons of giggles and lol as usual. Penny always amazes me and is wise beyond her years to make this world a better place to heighten people's awareness so we may not be as judgmental, slanderous, or opinionated on people who are "different" from us or our values. I just LOVED this book. Thank you." – Sherri
BLURB
 Wall Street Journal and USA Today Bestseller
Rex "TW" McMurtry's perpetual single-hood wouldn't bother him so much if all his ex-girlfriends didn't keep marrying the very next person they dated, especially when so many of those grooms are his closest friends. He may be a pro-football defensive end for the Chicago Squalls, but the press only wants to talk about how he's always a groomsman and never a groom. Rex is sick of being the guy before the husband, and he's most definitely sick of being the best man at all their weddings.
Bartender Abigail McNerny is the gal-pal, the wing-woman, the she-BFF. She's dated. Once. And once was more than enough. Privy to all the sad stories of her customers, 'contentment over commitment' is her motto, and Abby is convinced no one on earth could ever entice her into a romantic relationship . . . except that one guy she's loved since preschool.
The guy who just walked into her bar.
The guy who doesn't recognize her.
The guy who is drunk and needs a ride home.
The guy who has a proposition she should definitely refuse.
Upon payment, digital files will be delivered immediately via an email from BookFunnel for listening on your browser or via the BookFunnel App. You will need to check your email in order to receive the audiobook. 
If you have any issues with your download, please respond to your download email from BookFunnel directly. 
Sales on all digital audiobooks are final. This item cannot be returned, exchanged, or refunded.