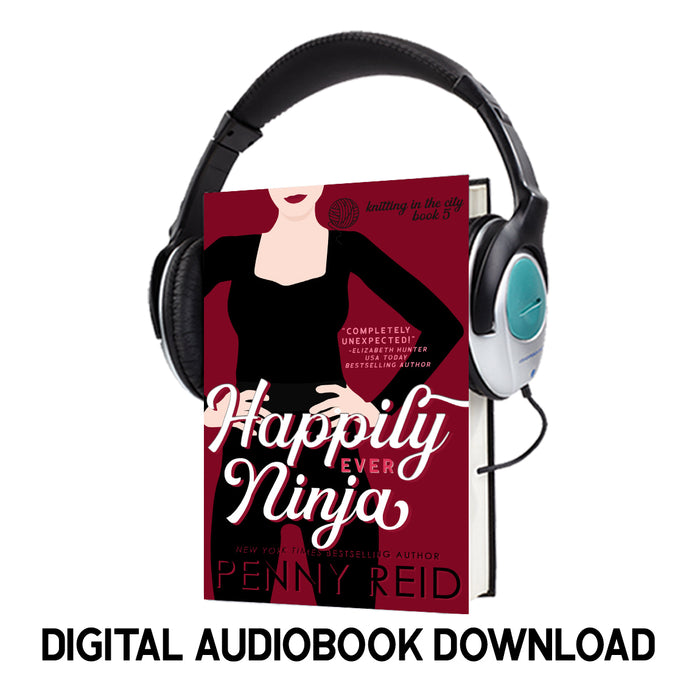 KITC 5.0: Happily Ever Ninja - Digital Audiobook Download
Original price
$ 9.99
-
Original price
$ 9.99
This is a digital audiobook download of Happily Ever Ninja, Book #5 in the Knitting in the City series by Penny Reid. 
Narrated by: Em Eldridge and WIll M. Watt
Length: 11 hrs and 1 mins
★★★★★ "My all time favorite Penny Reid book! I loved everything about this book. I loved that it was about a long-term relationship after the "and they lived happily ever after...". I loved the humor, suspense, and especially the quotes from her readers starting off each chapter. I'm sure I will be quoting one of my favorite "Greg-isms",' better they learn about it at home than on the streets' when referring to things like welding." – K.
★★★★★ "A romance story of relationship depth. I loved that this book dealt with a long term married couple and worked through their issues. I loved the conversations, their love, misunderstandings and willingness to talk, adapt and truly work things out." – Monica
BLURB
There are three things you need to know about Fiona Archer… I would tell you what they are, but then I'd have to kill you.
But I can tell you that Fiona's husband—the always irrepressible and often cantankerous Greg Archer—is desperately in love with his wife. He aches for her when they are apart, and is insatiable when they are together. Yet as the years pass, Greg has begun to suspect that Fiona is a ninja. A ninja mom. A ninja wife. A ninja friend. After fourteen years of marriage, Greg is trying not to panic. Because Fiona's talent for blending in is starting to resemble fading away.
However, when unexpected events mean Fiona must take center stage to keep her family safe, her response stuns everyone—Greg most of all. It seems like Greg's wish has come true.
Except… not.
When all is said and done, can Greg handle this new version of his wife? Will his irrepressible cantankerousness push her away? Or can the couple find a way forward without either being forced to step back into the shadows?
Happily Ever Ninja is book #5 in the Knitting in the City series. Each book is a standalone, full length (110k words), contemporary romantic comedy novel, and follows the misadventures and exploits of seven friends in Chicago, all members of the same knitting group.
Upon payment, digital files will be delivered immediately via an email from BookFunnel for listening on your browser or via the BookFunnel App. You will need to check your email in order to receive the audiobook. 
If you have any issues with your download, please respond to your download email from BookFunnel directly. 
Sales on all digital audiobooks are final. This item cannot be returned, exchanged, or refunded.