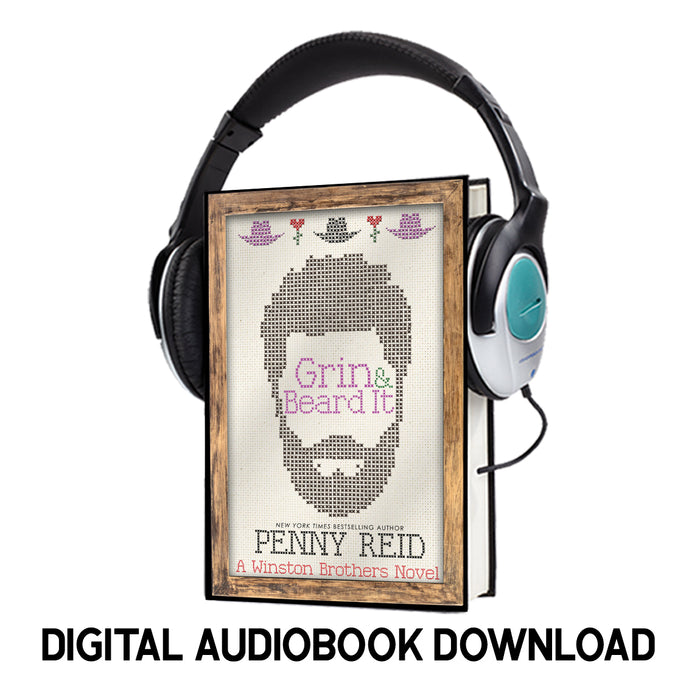 Winston Brothers 2.0: Grin and Beard It - Digital Audiobook Download
Original price
$ 9.99
-
Original price
$ 9.99
This is a digital audiobook download of Grin and Beard It, Book #2 in the Winston Brothers series by Penny Reid
Narrated by: Chris Brinkley and Cielo Camargo
Length: 12 hrs and 50 mins
★★★★★ "Fun and entertaining! Penny Reid is an amazing author, and the narrators bring her characters to another level!!! I love Chris Brinkley and Cielo Camargo!! I am really enjoying the Winston Brother's series. I love how they always call each other by their entire full names. There is so much humor and fun in these books!!!" – Jamie
★★★★★ "Just the best. This book has IT ALL. It's funny, smart, charming, and chalk full of heart. The Winston Brothers are my comfort books and you will not regret having this gem in your library." – A.K.
BLURB
New York Times, Wall Street Journal and USA Today Bestselling series
Sienna Diaz is everyone's favorite "fat" funny lady. The movie studio executives can't explain it, but her films are out-grossing all the fit and trim headliners and Hollywood's most beautiful elite. The simple truth is, everyone loves plus-sized Sienna.
But she has a problem, she can't read maps and her sense of direction is almost as bad as her comedic timing is stellar. Therefore, when Sienna's latest starring role takes her to the Great Smoky Mountains National Park she finds herself continually lost while trying to navigate the back roads of Green Valley, Tennessee. Much to her consternation, Sienna's most frequent savior is a ridiculously handsome, charming, and cheeky Park Ranger by the name of Jethro Winston.
Sienna is accustomed to high levels of man-handsome, so it's not Jethro's chiseled features or his perfect physique that make Sienna stutter. It's his southern charm. And gentlemanly manners. And habit of looking at her too long and too often.
Sienna has successfully navigated the labyrinth of Hollywood heart-throbs. But can she traverse the tenuous trails of Tennessee without losing her head? Or worse, her heart?
Grin and Beard It is book #2 in the Winston Brothers series. Each book is a standalone, full length (110k words), contemporary romantic comedy novel, and follows the romantic exploits and adventures of one of the six Winston Brothers.
Upon payment, digital files will be delivered immediately via an email from BookFunnel for listening on your browser or via the BookFunnel App. You will need to check your email in order to receive the audiobook. 
If you have any issues with your download, please respond to your download email from BookFunnel directly. 
Sales on all digital audiobooks are final. This item cannot be returned, exchanged, or refunded.