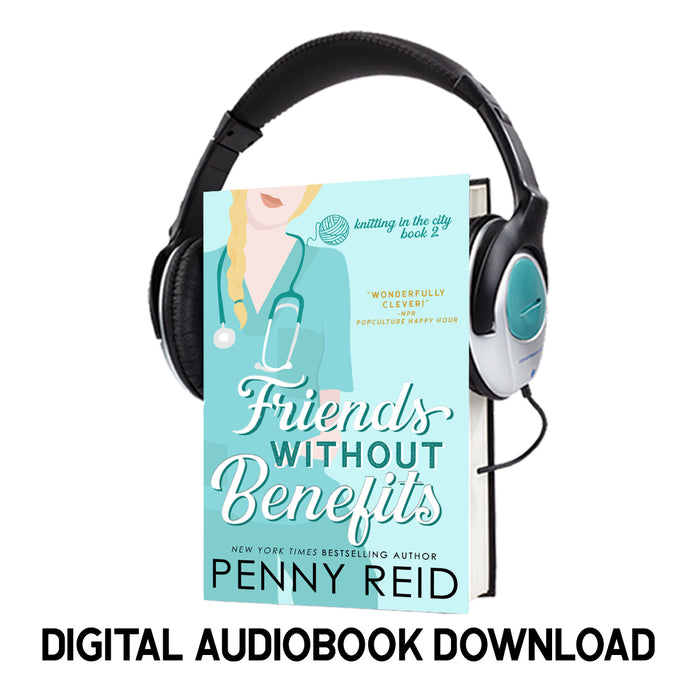 KITC 2.0: Friends Without Benefits - Digital Audiobook Download
Original price
$ 9.99
-
Original price
$ 9.99
This is a digital audiobook download of Friends Without Benefits, Book #2 in the Knitting in the City series by Penny Reid. 
Narrated by: Devra Woodward
Length: 15 hrs and 31 mins
★★★★★ "Best narration! This was the best narration that I've listened to in a long time. It made the book so much more enjoyable than what it would've been without it. That being said the book itself was also very good. I just couldn't stop listening." – Vann
★★★★★ "Narrator was amazing. Her Nico voice was pretty hot. She did an excellent job managing the myriad of character accents. After a whole book of her charming Nico voice, the narrator for the epilogue was a little disappointing." – Betsy
BLURB
There are three things you need to know about Elizabeth Finney:
1) She suffers from severe sarcastic syndrome, especially when she's unnerved, 2) No one unnerves her like Nico Manganiello, and 3) She knows how to knit.
Elizabeth Finney is almost always right about everything: the musical merits of boy bands are undervalued by society, "benefits" with human Ken dolls are better without friendship, and the sun has set on her once-in-a-lifetime chance for true love. But when Elizabeth's plans for benefits without friendship are disarmed by the irritatingly charismatic and chauvinistic Nico Manganiello- her former nemesis- she finds herself struggling to maintain the electric fence around her heart while avoiding electrocution or, worse, falling in love.
Friends Without Benefits is book #2 in the Knitting in the City series. Each book is a standalone, full length (110k words), contemporary romantic comedy novel, and follows the misadventures and exploits of seven friends in Chicago, all members of the same knitting group.
Upon payment, digital files will be delivered immediately via an email from BookFunnel for listening on your browser or via the BookFunnel App. You will need to check your email in order to receive the audiobook. 
If you have any issues with your download, please respond to your download email from BookFunnel directly. 
Sales on all digital audiobooks are final. This item cannot be returned, exchanged, or refunded.