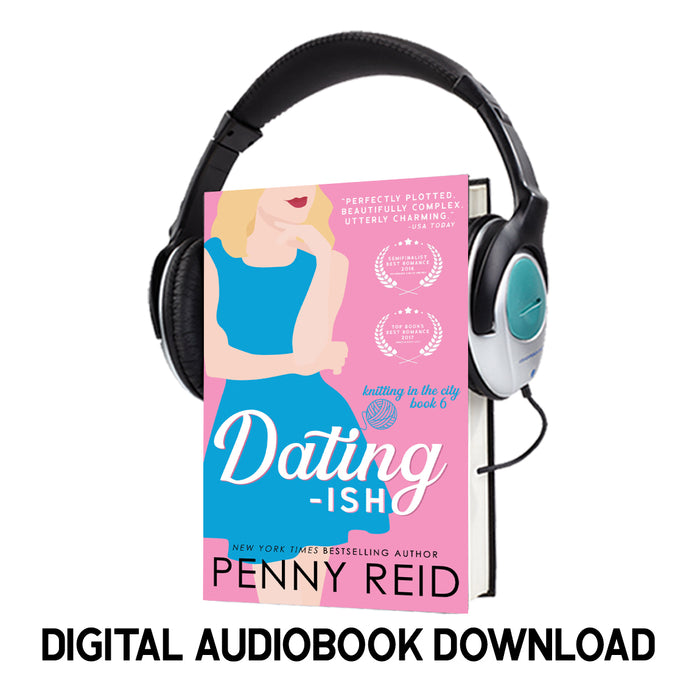 KITC 6.0: Dating-ish - Digital Audiobook Download
Original price
$ 9.99
-
Original price
$ 9.99
This is a digital audiobook download of Dating-ish, Book #6 in the Knitting in the City series by Penny Reid. 
Narrated by: Joy Nash
Length: 11 hrs and 57 mins
★★★★★ "Dating-ish is even better by audio I love all of Penny Reid's books but my adoration of this one has increased over time. Recovering from eye surgery, I just listened to it for the first time. The dialogue scenes among numerous favourite characters about the growing role of AI in human interactions was engaging, funny, and thought-provoking. Joy Nash has an amazing voice, and I marvel at her ability to perform so many, so well and she captured the sexual tension between Marie and Matt perfectly" – Julie
★★★★★ "One of my top 2 of this series! Absolutely loved Marie and Matt. I was not sure at the beginning but I was fascinated by the concept of Artificial intelligence. I love the development of their story. The narration was superb!" – A.
BLURB
There are three things you need to know about Marie Harris:
1) She's fed up with online dating, 2) She's so fed up, she's willing to forego the annoyance and consider more creative alternatives, and 3) She knows how to knit.
After the most bizarre and irritating first date in the history of humankind, Marie is looking for an alternative to men. With the help of her friends, she quickly identifies a few possibilities:
Need a cuddle? Use a professional cuddler. Need affirmation? Get yourself a life coach. Need an orgasm? Try orgasm meditation! Why does she need the hassle of a romantic partner when she can meet all her needs with paid services?
But then her irritating date resurfaces. And he's not at all the person she thought he was. And he suggests a different—and crazier—solution to her dilemma . . .
As everyone knows (or will soon come to realize), traditional relations between humans are a thing of the past. Robots are our future. And if robots are our future, then why do we need other people at all?
Dating-ish is book #6 in the Knitting in the City series. Each book is a standalone, full length (110k words), contemporary romantic comedy novel, and follows the misadventures and exploits of seven friends in Chicago, all members of the same knitting group.
Upon payment, digital files will be delivered immediately via an email from BookFunnel for listening on your browser or via the BookFunnel App. You will need to check your email in order to receive the audiobook. 
If you have any issues with your download, please respond to your download email from BookFunnel directly. 
Sales on all digital audiobooks are final. This item cannot be returned, exchanged, or refunded.