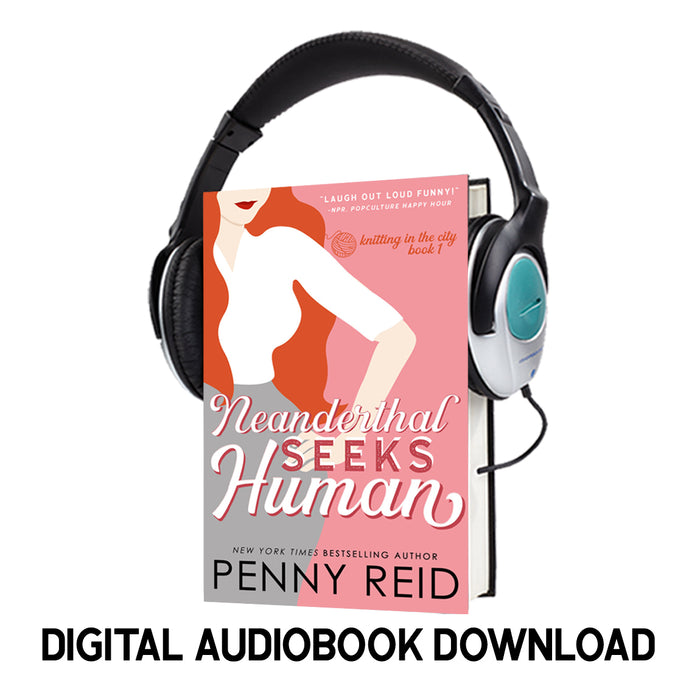 KITC 1.0: Neanderthal Seeks Human - Digital Audiobook Download
Original price
$ 9.99
-
Original price
$ 9.99
This is a digital audiobook download of Neanderthal Seeks Human, Book #1 in the Knitting in the City series by Penny Reid. 
Narrated by: Jennifer Grace
Length: 14 hrs and 48 mins
★★★★★ "Surprisingly refreshing. I am truly surprised at how much I love and enjoy this book. While I am an unabashed smut lover, there was so much sexually tension that I didn't miss it in the storyline. Penny gives you just enough to keep you very interested in the next chapter, but it won't deter you if you don't like the detailed love scenes. The tension and heart palpitations was .. palpable!! So so good!" – Lea
★★★★★ "Wonderfully funny! The dialogue was extremely witty. I was laughing out loud. The narrator did a fantastic job with all the characters, especially bringing Janie's personality to life. A smart, funny romance, a great story with the perfect narration. I wish that the sequels were narrated, too. Janie's words and thoughts NEED to be heard as well as read. – A.
BLURB
*AAR top 100 romances of all time*
New York Times Bestselling Author Penny Reid's debut novel
There are three things you need to know about Janie Morris:
1) She is incapable of engaging in a conversation without volunteering TMTI (Too Much Trivial Information), especially when she is unnerved,
2) No one unnerves her more than Quinn Sullivan, and
3) She doesn't know how to knit.

After losing her boyfriend, apartment, and job in the same day, Janie Morris can't help wondering what new torment fate has in store. To her utter mortification, Quinn Sullivan—aka Sir McHotpants—witnesses it all then keeps turning up like a pair of shoes you lust after but can't afford. The last thing she expects is for Quinn to make her an offer she can't refuse.

Neanderthal Seeks Human is book #1 in the Knitting in the City series. Each book is a standalone, full length (110k words), contemporary romantic comedy novel, and follows the misadventures and exploits of seven friends in Chicago, all members of the same knitting group.
Upon payment, digital files will be delivered immediately via an email from BookFunnel for listening on your browser or via the BookFunnel App. You will need to check your email in order to receive the audiobook. 
If you have any issues with your download, please respond to your download email from BookFunnel directly. 
Sales on all digital audiobooks are final. This item cannot be returned, exchanged, or refunded.