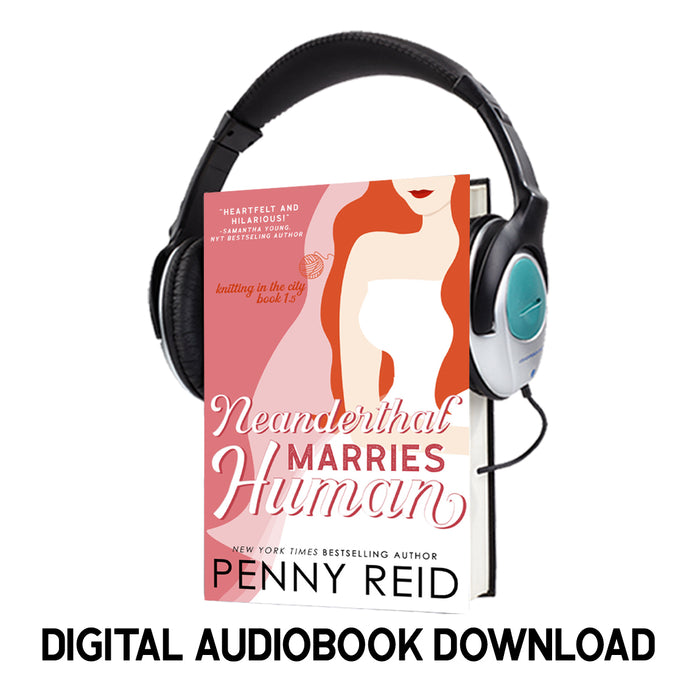 KITC 1.5: Neanderthal Marries Human - Digital Audiobook Download
Original price
$ 9.99
-
Original price
$ 9.99
This is a digital audiobook download of Neanderthal Marries Human, Book #1.5 in the Knitting in the City series by Penny Reid. 
Narrated by: Jennifer Grace and Sebastian York
Length: 14 hrs and 5 mins
★★★★★ "Loved it! I have a new favorite author! Loved the narrators, too! She tackled with grace, dysfunctional families, people on the autistic spectrum, how miscommunication & lies can hurts relationships, forgiveness & how love, when not available from your family doesn't have to define you. And that you can/will find love through relationships outside your family." – Barry
★★★★★ "Cute quirky lovely story. Quinn and Janie opposites do attract but they are good for each other a sober love story deep thoughts behind the humor. This is a great read and part of great series." – Gail
BLURB
There are three things you should know about Quinn Sullivan:
1) He is madly in love with Janie Morris,
2) He's not above playing dirty to get what (or who) he wants, and
3) He doesn't know how to knit.

After just five months of dating Janie, Quinn—former Wendell and unapologetic autocrat—is ready to propose marriage. In fact, he's more than ready. If it were up to Quinn, he would efficiently propose, marry, and beget Janie with child all in the same day—thereby avoiding the drama and angst that accompanies the four stages of pre-matrimony: engagement, meeting the parents, bachelor/bachelorette party, and overblown, superfluous wedding day traditions. But Janie, much to Quinn's dismay, tosses a wrench in his efficacious endeavors and challenges him to prove his devotion by going through the matrimonial motions, no matter how minute and mundane.

Will Quinn last until the wedding day? Or will he yield to his tyrant impulses?

This book is not a standalone. It is the sequel to 'Neanderthal Seeks Human,' and is book #1.5 in the Knitting in the City series.
Upon payment, digital files will be delivered immediately via an email from BookFunnel for listening on your browser or via the BookFunnel App. You will need to check your email in order to receive the audiobook. 
If you have any issues with your download, please respond to your download email from BookFunnel directly. 
Sales on all digital audiobooks are final. This item cannot be returned, exchanged, or refunded.