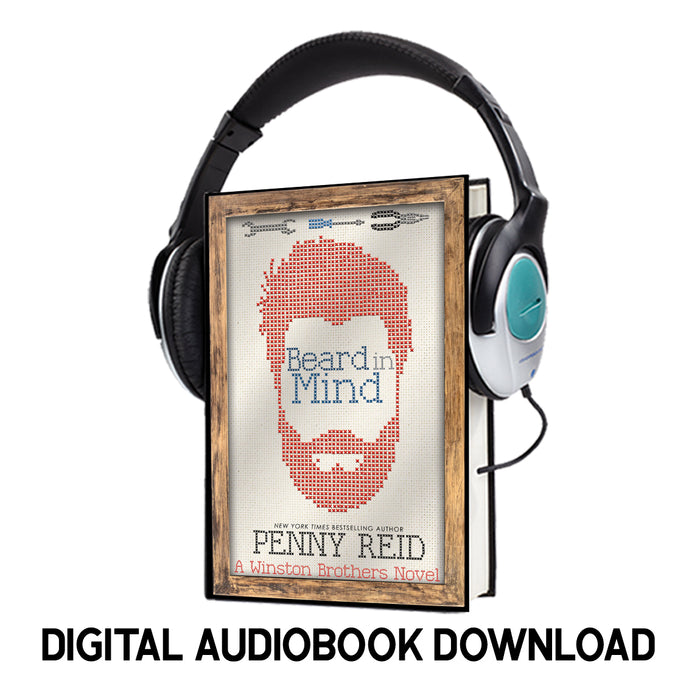 Winston Brothers 4.0: Beard in Mind - Digital Audiobook Download
Original price
$ 9.99
-
Original price
$ 9.99
This is a digital audiobook download of Beard in Mind, Book #4 in the Winston Brothers series by Penny Reid

Narrated by: Chris Brinkley and Angela Dawe
Length: 13 hrs and 45 mins
★★★★★ "Bravery at its finest! Penny Reid did a fantastic job writing about OCD. There are too many types of OCD to capture in one human experience, however; she goes into great depth with Shelly's character taking us through Shelly's specific struggles and the personal effort and daily work she attempts. Beau is a wonderful human very enjoyable, funny, caring, and compassionate. I laughed and cried throughout this book. Beautifully narrated by my all time favorite Chris Brinkley!!! Angela Dawe did a fine job with her very tough character." – Jamie
★★★★★ "Great book! I enjoyed this book a lot! Story, characters, performance, it was all great! Definitely going to listen to the others!" – Bailey
BLURB
New York Times, Wall Street Journal, and USA Today Bestselling series
**Goodreads Choice Awards Semi-finalist**
All is fair in love and auto maintenance.
Beau Winston is the nicest, most accommodating guy in the world. Usually.
Handsome as the devil and twice as charismatic, Beau lives a charmed life as everyone's favorite Winston Brother. But since his twin decided to leave town, and his other brother hired a stunning human-porcupine hybrid as a replacement mechanic for their auto shop, Beau Winston's charmed life has gone to hell in a handbasket.
Shelly Sullivan is not nice and is never accommodating. Ever.
She mumbles to herself, but won't respond when asked a question. She glares at everyone, especially babies. She won't shake hands with or touch another person, but has no problems cuddling with a dog. And her damn parrot speaks only in curse words. Beau wants her gone. He wants her out of his auto shop, out of Tennessee, and out of his life.
The only problem is, learning why this porcupine wears her coat of spikes opens a Pandora's box of complexity—exquisite, tempting, heartbreaking complexity—and Beau Winston soon discovers being nice and accommodating might mean losing what matters most.
Beard in Mind is book #4 in the Winston Brothers series. Each book is a standalone, full length (110k words), contemporary romantic comedy novel, and follows the romantic exploits and adventures of one of the six Winston Brothers.
Upon payment, digital files will be delivered immediately via an email from BookFunnel for listening on your browser or via the BookFunnel App. You will need to check your email in order to receive the audiobook. 
If you have any issues with your download, please respond to your download email from BookFunnel directly. 
Sales on all digital audiobooks are final. This item cannot be returned, exchanged, or refunded.